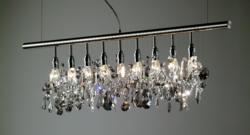 Florida (PRWEB) June 03, 2013
Modernluz, the leading supplier of exotic luxury lights in the US and Latin America, has launched a stunning new collection of modern European light pieces. Chandeliers, recessed ceiling lights, pendants, suspension lamps, outdoor lights, table lamps, floor lamps, and wall scones are the highlights of the Modernluz lighting collection that is geared to dazzle Latin American homes and the Spanish speaking community in the US. Fashioned out of glass, crystals, metals and fabric, these lights speak of classic glamour and timeless beauty. The company has been providing flawless modern light fixtures for Spanish speaking market for over 15 years and has Spanish speaking staff on board to cater to the community in focus. They offer free shipping for light fixture orders that are billed over $ 500 and are sent to several Latin American countries.
The web store boasts of the best and widest collection of contemporary lighting fixture available in the US. Leading brands like Foscarini, Artemide, Swarovski, Catellani, Flos, Masiero, Escale, and many more can be found here.
The Aurea 15 S1 suspension light has been manufactured by Masiero and carries a metal frame. The chrome finish can be altered with stained Italian glass. Customers also opt for a Swarovski crystal frame with color choices among red, sapphire, violet, green, amber, or clear. It is a symbol of modern Italian opulence. Among other Italian light pieces offered by Modernluz lights like the Terzani offer floor lamps that instantly raise the grandeur of the space. The Ortenzia floor lamp sports a handcrafted four leaf clover design. The light escapes from among the petals and emits a delicate glow. It is available in gold plated or nickel finish. It is 19.7 inches long but is available in other dimensions as well.
The Alpha 6 Crystals are a recessed ceiling fixture that features energy efficient LED lights. This doubles up as an accent light and comes with easy mounting features. It is a complete light package containing power supply and installation accessories. It is available in chrome or gold-plated finish and combined with either daylight or neutral white shades.
These modern lights in the US and Latin America have received warm reviews from customers. Judy Chris, from Boston said that she likes placing her suspension lights right in the foyer because they create a warm and welcoming atmosphere for guests. ?Suspension lights in the foyer create an awesome look. There is nothing like that,? she said. Timmy Baker, a hardware employee from Arizona, is pleased with the lamps and wants to order more for his projects. ?The lamps came in perfect condition and were shipped free to my residence. I recommend Modernluz to all my clients,? he said.
Modernluz lighting is a leading stockist of European light fixtures. Based out of Florida, the company has been providing excellent lighting pieces to the Spanish community in the US. They offer free worldwide shipping for orders above $ 500 through either direct destination shipping or a freight forwarding. Trained electricians and Spanish speaking staff help clients select, order, and install the lights in their homes.