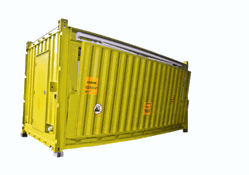 Sydney, Australia (PRWEB) June 14, 2013
Containers First, a leading Australian shipping container sales, hire and modification company manufactured the Taste Mobile Kitchen that recently won a prestigious 2013 Australian International Design Award for the Sydney-based Benevolent Society.
Designated ?Best in Category? by the award judges, the Taste Mobile Kitchen is a commercial-grade traveling kitchen complete with an intricate hydraulics system that Containers First designed and built from a standard 20-foot shipping container.
Award Judge Alex Cheek said the way the Taste Mobile Kitchen incorporates many different elements is what made it this year?s winner in the not for profit service category. "The Benevolent Society thought about all the aspects of how to make a great experience for the school students and the community, as well as building a [social enterprise] business model around it," Mr. Cheek said.
?We?re honoured to share this award with the Benevolent Society,? said Rick Johnson, Containers First?s manager on the project. ?The judges recognised not only the innovative design and complex engineering that went into it, but also the positive impact the Taste Mobile Kitchen has had on the children and their families in the communities the Benevolent Society serves.?
The first portable kitchen of its kind operating as a social enterprise in Australia, the Taste Mobile Kitchen was created to strengthen community connections, bring diverse cultures together and foster community pride.
The colourful, 6.5-tonne Taste Mobile Kitchen travels via truck or rail to different communities throughout southwestern Sydney. It provides a fun and interactive environment for school children and their families to learn how to prepare simple, delicious and affordable meals using locally-grown produce and culturally-diverse ingredients.
The mobile kitchen project began with just an idea the Benevolent Society presented to Containers First in 2011. The Society envisioned a spacious, commercial-grade, demonstration kitchen that would be economical to transport, simple to operate, and could be ready to use within minutes of unloading.
Containers First took the Society?s initial concept and designed and built a full working kitchen that included Euromaid stainless steel appliances, electric and gas cooktops and ovens, a refrigerator, dishwasher, microwave oven, two taps, and many more kitchen essentials. The entire unit folds compactly into the dimensions of a standard shipping container for efficient transport.
?The Benevolent Society had no drawings or specs,? recalled Mr. Johnson of Containers First. ?Our challenge was to design and install everything they wanted on a tight budget and within the dimensions of a standard container. We also had to make sure the kitchen could withstand frequent travel and perform flawlessly upon arrival at each destination.?
To fulfill the client?s wish for the largest kitchen area possible, Containers First created what is believed to be a first in the modified shipping container industry: a hydraulic-powered sliding extension. With just a push of a button, the gallery depth can be expanded by nearly a half-metre. ?Credit goes to our exceptional engineers for pulling that unprecedented design feat off without a hitch,? Mr. Johnson added.
A second pushbutton activates hydraulics that lowers a platform stage and raises the top sign. The kitchen also includes a retractable awning for protection from the elements and an overhead mirror so audiences can get a bird?s-eye view of the cooking below.
When not in use by the Benevolent Society, the Taste Mobile Kitchen is available for hire which helps pay for its ongoing operations and maintenance.
About Containers First:
Containers First, a division of the Western Container Group, offers a large inventory of new and used ISO shipping containers in every available size and configuration for sale, hire or lease from its Sydney headquarters. Containers First is also a major supplier of portable buildings, dangerous goods storage, insulated containers, and refrigerated units. Containers First specialises in container modifications, backed by one of the best on-site design/engineer/build teams in the industry. For more information, please call 1300 558 327 or visit Containers First.